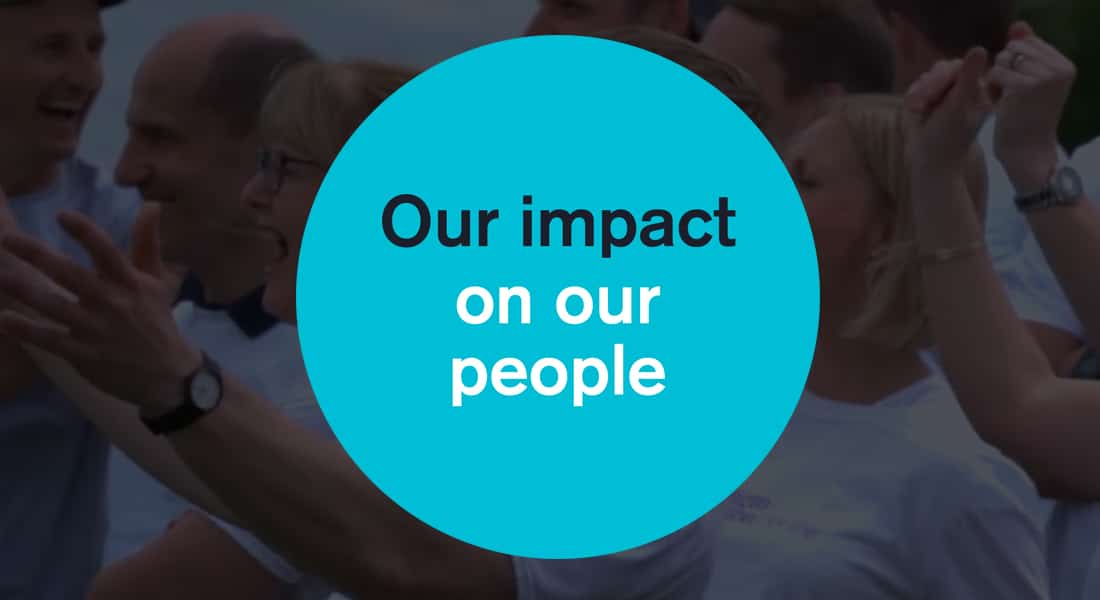 What are the next steps and how does B Corp inform them?
A lot of companies say it, but we are working hard to show we mean it: People Matter.
It's one of the core values upon which we've built our business. We're proud of what we've done but know there's still more we can do.
In 2020 we created a 'Head of People' role to further develop this value. We want to create an inclusive and sustainable place where people love to work. Somewhere they can thrive, do amazing work and have a positive impact on their communities and the environment.
So what are we doing to make sure this happens?
We're listening to our partners
We have always run an annual happiness survey to find out how our people are doing, but we recognised that we needed to do this more frequently. So we've introduced more regular surveys to check our collective pulse and ensure we can respond to any fluctuations.
We're talking about mental health
Whilst we've always had great support available through our benefits providers, this year we've made real progress in talking more openly about our mental health. We're working hard to reduce stigma by running a series of mental health workshops including the Mental Health Toolkit, Stress Management and a bespoke course to help managers support their teams.
Five of our partners have volunteered to train as Mental Health Advocates, to develop their understanding of mental health and to spot triggers.
We're in this together
We don't talk about staff or colleagues. We talk about the Paradigm Norton family.
The global pandemic has brought this need for family to the fore. Normally, our team days are a perfect opportunity to share and celebrate together, look back at our achievements and remind ourselves of why we do what we do. In the absence of gathering together, we've introduced a weekly Partner Huddle where we share family news and raise the awareness and importance of wellbeing. Partners have shared tips on such subjects as coping with lockdown, healthy lifestyles and maintaining work/home boundaries.
We have also set up the PN Hardship Fund, for our partners' families who have been hardest hit financially by the pandemic.
We also encouraged and supported our partners in engaging in any voluntary initiatives during work hours in support of the wider response to Covid-19.
How/where we work
During the pandemic, the balance between home life and work life has become more real – whether that is home schooling, caring for shielding relatives or helping our neighbours and our community.
Partners were encouraged to find their own working rhythm and work with it rather than against it.
We've listened and know that partners have felt more empowered and able to find that rhythm and have more time for the things we love outside of work.
But with all the necessary precautions, we have missed seeing each other and being able to collaborate together in person.
2021 will have the challenge of moving from "flexible working" to "hybrid working" and re-imagining how our offices can be best used.
The whole you
The research has been done. It shows that diverse and inclusive companies, where people can bring their whole selves, drive innovative results.
The financial advice sector is committed to improving its diversity and inclusivity and challenging the male dominated image of the industry.
At Paradigm Norton we want to be part of this change and we already have things we are very proud of:
Our workforce has remained consistently evenly split in terms of gender.
Since introducing our graduate recruitment scheme in 2016, 100% of our intake has been female.
But we know this is not enough and we still have issues we need to address, such as increasing the number of female financial planners progressing into senior client management and leadership roles.
We are working on a number of things in 2021 to address this:
Mandatory unconscious bias and annual diversity and inclusion training for all partners and ensuring we all identify key moments in which to build new habits or "microbehaviors"
Introducing a progression framework to ensure fair, open and accessible career development opportunities for all.
A board member taking specific responsibility for Diversity and Inclusion.
Gender balance in our Leadership Academy cohorts.
Find out more